PLAY A QUICK NINE
Madison Park Golf Course is a solid 9-hole course for beginners or players who seek to improve their short game. Bring a wedge or nine iron, putter, a few balls, and leave the rest of the bag at home for this course.
No tee times are needed, tee off on a first-come, first-served basis.
Course is not staffed.  There is a pre-pay station on hole #1.  Please bring cash/check.
Add a replay round and play 18 holes for $11!
Madison Park Green Fees
| | STANDARD | JUNIOR/SENIOR/DISABILITY |
| --- | --- | --- |
| | 9 Holes | 9 Holes |
| M-Su | $7 | $5 |
| Replay | $4 | $3 |
Scorecard
| | | | | | | | | | | | |
| --- | --- | --- | --- | --- | --- | --- | --- | --- | --- | --- | --- |
| | 1 | 2 | 3 | 4 | 5 | 6 | 7 | 8 | 9 | total | |
| | Par 3 | Par 3 | Par 3 | Par 3 | Par 3 | Par 3 | Par 3 | Par 3 | Par 3 | PAR | YARDS |
| Black | 92 | 115 | 155 | 98 | 96 | 123 | 113 | 98 | 124 | 27 | 1014 |

Updated: December 5th
Front 9
Back 9
Carts
Notes
Brown Deer
N
N
N
CLOSED FOR THE SEASON
Dretzka
N
N
N
CLOSED FOR THE SEASON
Oakwood
N
N
N
CLOSED FOR THE SEASON
Whitnall
N
N
N
CLOSED FOR THE SEASON
Currie
Y
N
N
HOLIDAY SALE MERCH AND GIFT CARDS! CURRIE CLUBHOUSE
M-F 10A-6P
SAT/SUN 8A-3P
Grant
Y
Y
N
Greenfield
N
N
N
CLOSED FOR THE SEASON
Lincoln
N
n/a
N
Hansen
N
N
N
CLOSED FOR THE SEASON
Lake
N
N
n/a
PREPAY STATION
Zablocki
N
n/a
n/a
PREPAY STATION
Doyne
N
n/a
n/a
PREPAY STATION
Madison
N
n/a
n/a
PREPAY STATION
Noyes
N
n/a
n/a
PREPAY STATION
Warnimont
N
N
N
CLOSED FOR THE SEASON
To ensure that you enjoy your round at a Par 3 Course, please observe the following regulations:
Play is on a first-come, first-served basis.
Each player in your group must have clubs, including a putter. Rental clubs are available.
Spectators or non-players are NOT allowed on the course. The only exceptions are those people authorized by the Parks Dept. or caddies performing caddy duties. You must inform the golf starter if you will be using a caddie. If the caddie is discovered golfing, both you and your caddie will be asked to leave the course.
You must wear suitable attire. Shirts are required. Non-metal spikes, alternative spikes, or spikeless shoes are required.
NO carry-in food or beverages are allowed.
Keep your payment receipt with you. When an attendant is not directly available, you must use the Self-Pay Station.
Obey all hole- and course-closure signage.
Remain with your group throughout the round. Groups of more than 4 are NOT permitted.
Play one ball at a time. NO re-play of any shots. Do NOT play your shot until all golfers and/or golf course staff are out of range. Please yell "FORE" if there is any chance that a ball might endanger another player or staff.
Keep your cart off the green and out of the area between a bunker and the green.
Replace all divots, rake all footprints in bunkers, and repair all ball marks on the green.
Display proper conduct at all times. If you violate the rules or disturb other guests with obnoxious behavior, damage to the course, refusal to let the next group through, failure to follow course design on a hole-to-hole basis, or other disruptive behavior, you will be asked to leave the course.
Return all rented clubs, bags, and pull carts to the starter.
Report all accidents or injuries to the starter immediately.
If conditions warrant—as determined by the starter—he/she will issue a raincheck if you present your receipt during the time of interrupted play.
Self-Pay Stations
The self-pay system allows Park attractions to remain open to the public at times when Park staff is not directly available to collect fees. The system is monitored throughout the day.
Using a Self-Pay Station
Take a self-pay envelope provided at the self-pay station.
Complete all information requested on the envelope.
Detach and keep the envelope stub as your receipt. Be prepared to present your receipt when asked.
Place the appropriate cash payment in the envelope, seal it and deposit it in the pay slot of the self-pay station.
9800 W Glendale Ave,
Wauwatosa, WI 53225
MILWAUKEE COUNTY GOLF OFFICE
9480 W. Watertown Plank Road
Wauwatosa, WI 53226
(414) 257-8024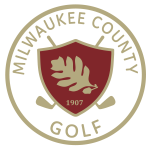 NO TEE TIME NEEDED!
Prepay Station Only