Featured PGA Professional: Andrew Barrett
Today we visit the hidden gem that is Brown Deer Park! We spent some time with PGA Head Golf Professional, Andy Barrett, getting a tour of Brown Deer Golf Course, and learning about its history and the renaissance it's gone through over the last few years. Read on to learn what's so special about Andy and this course.
Golf Life
Andy picked up a golf club for the first time around age 15, when he started working at Odana Hills Golf Course in Madison. He played on his high school golf team, and was primarily self-taught; he admits he wasn't a star player by any means, and he picked up some bad habits along the way!
Those habits haven't stopped him from competing and loving the game. Andy shared that his best game ever was in a local tournament, where he shot the course record (63) at North Shore Country Club. He wasn't even supposed to play, but he got bumped off the waiting list at the last minute, and took home a big cash prize, plus bragging rights.
Working at the Milwaukee County Parks Courses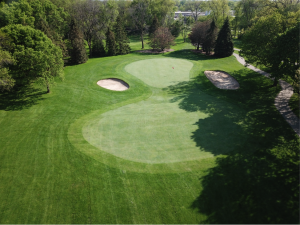 After college, Andy moved to Arizona and began working at the ASU Karsten Golf Course. Eventually, he completed his PGA Golf Professional Certification, and returned to Wisconsin, where he worked at University Ridge Golf Course in Madison, among others. Andy came to the Milwaukee County Parks in 2010 to serve as the PGA Professional at Oakwood Park Golf Course. In 2015, he moved over to Brown Deer Park Golf Course, and has made it his mission to reinvigorate the course for both local players, and guests from out of town.
Building Brown Deer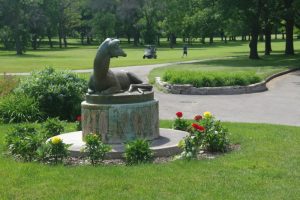 Andy is proud of Milwaukee County's initiatives to reinvent the courses, and his main goal is to get Brown Deer Park Golf Course back on Golf Digest's Top 50 Municipality Courses in the Country. "I'll feel like I've done my job" (when that happens), he says. Outside of regular golf operations, Andy also manages the major special events that happen annually at Brown Deer. The Badger Mutual Insurance Women's Amateur Tournament hosts some of golf's best female athletes, and feeds into the Symetra Tour's PHC Classic.
Golf Passion
If you have the time, Andy will talk for hours about golf, and Brown Deer Park Golf Course. He's fired up (and not surprised) about the fact that Golf Advisor just ranked Wisconsin as #1 Golf Destination in the world. When it comes to golf trails, Wisconsin has a ton of great courses in close proximity – Andy hopes that tourists coming to play courses like Whistling Straits will make a pit-stop on their way into or out of Milwaukee to play a round at Brown Deer.
Favorites
Course: Brown Deer Golf Course (no surprise here!) Andy says it's because it was the course where his Mother first came to watch him play in the Greater Milwaukee Open
Club: Andy is pretty attached to his beat up old Odyssey putter
Golf Movie: The Greatest Game Ever Played
Golf companion: Chet! Or his other PGA Pro buddies because they're equally skilled which makes for an enjoyable game
Walk vs Cart: "Caddie vs. anything!"
Golf Superstition: He doesn't believe in superstition, but does carry a ball marker that brings him luck
Why Andy Loves Golf Today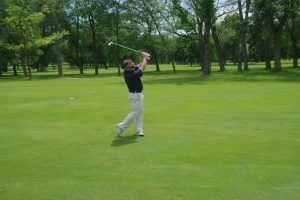 Andy is passionate about teaching golf, and his students range from beginners to accomplished players to seniors. He likes the fact that everyone has their challenges, and they just want to improve, which is a great mindset. He loves his job because not only does he get to teach, but he gets to manage a diversity of programming, including the recent renovation and build outs at Brown Deer. Andy oversaw the updated cart staging area, building out a beautiful spectator deck overlooking the course, updates to the clubhouse including the opening of the Oak & Antler Tavern, and the major road realignment project. When he's not working, you're likely to find him playing golf, although he did mention that when he goes on vacation, he doesn't necessarily need to bring his clubs.
Golf MKE
Whether you're a beginner or a seasoned golf enthusiast like Andy, the Milwaukee County Golf Courses welcome you! Visit our website frequently to stay up-to-date on events, discounts, and course conditions, as well as to book tee times. And, if you don't already get our golf emails, sign up today.