Featured PGA Professional: Andy Gieryn
It was a beautiful July afternoon when we got a tour of Oakwood Park Golf Course in Franklin, from PGA Professional Andy Gieryn. Andy has been part of the Milwaukee County Parks Golf organization since 2012; he started at Whitnall Park Golf Course, and has been the head PGA Professional at Oakwood since 2014. Take a quick tour of Milwaukee County's longest course with us, and get to know Andy a little bit, too!
Golf Beginnings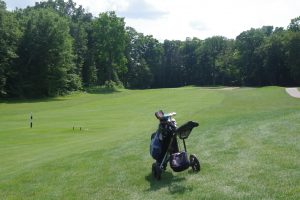 Andy's dad introduced him to golf when he was just 7 years old. He grew up playing at Greenfield Park Golf Course, and although his dad no longer plays, he's still Andy's favorite person to hit the links with. Over the years, Andy has appreciated the golf mentors he's gained at the different courses he's worked at. He tips his hat to Mark Bergman, who he worked for at Merrill Hills Country Club in Waukesha, and Jim Andresen who he worked for at Tuckaway Country Club in Franklin.
A Day In The Life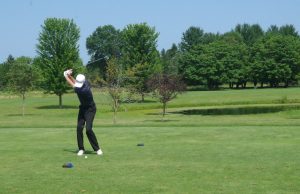 As the head PGA Professional at Oakwood, Andy has many responsibilities. He teaches golf to men, women, and juniors at all skill levels. He especially enjoys those at the beginner level. Says Andy, "seeing them hit a good shot for the first time, and how much fun they have when that happens, it's fun." In addition to teaching and managing the course and pro shop, Andy is also passionate about hosting special events and group outings. His favorite event of the year is Patriot Golf Day, which benefits Folds of Honor, bringing scholarships to spouses and children of America's fallen and disabled service members. This event always takes place on the Saturday of Labor Day weekend, and Andy encourages interested golfers to sign up early, as the event typically sells out.
Oakwood's Evolution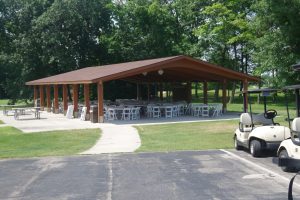 Andy is extremely proud of his course, and you can see why. It's not just about the well kept greens and fairways; it took 3 seasons to install the paved cart paths, which make the entire course easily accessible to golfers even when conditions aren't perfect. And, the newly renovated Clubhouse took 2 winters to complete. It was worth the wait, and now offers concessions, a scenic seating area, and a fully-equipped pro shop. With the outdoor pavilion to boot, Oakwood plays host to many corporate and non-profit outings and social events.
What Makes Milwaukee County Great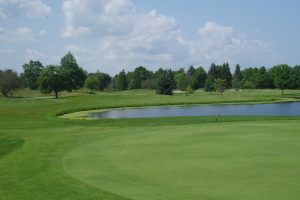 Andy has a practical outlook on why the Milwaukee County Parks Golf Courses are the greatest. First, with 15 courses, there's something for everyone; from shorter courses, all the way up to Oakwood (the longest course in the county), every level of player can find their sweet spot. Next, the price is right. While Milwaukee County already has great pricing, even at prime time (weekend mornings), golfers will get killer deals all season long (you can sign up for our email newsletter to be the first to know about specials!). At Oakwood, you can't beat the $10 Sunset Golf deal (walk the course and play your heart out from sunset until close – see sunset times here), and the Evening Bundle, which includes the Sunset Golf deal plus two drink tickets and a sleeve of golf balls for just $21. And finally, Andy would like to remind golfers from beginners to seasoned players – if you're looking for golf equipment, from clubs to shoes to golf bags and more, your Milwaukee County Golf Professional can probably get you the best price out there…and they're happy to help!
Favorites
Course: Oakwood, with Greenfield as a close second, as it's where he learned to play the game with his dad
Golf Secret: The best time of year to play is actually after Labor Day – the courses are fully grown in, conditions are great, and it's cooler!
Golf Movie: Caddie Shack
Walk vs. Cart: Cart
Golf Memory: Taking the players ability test as he was working toward his PGA membership; he hit 1 under par on his last 9 holes to pass his playing test by 2 shots
Golf MKE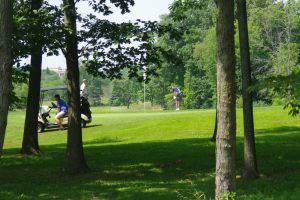 No matter what part of the county you live in, or your golf skill level, the Milwaukee County Golf Courses welcome you! Visit our website frequently to stay up-to-date on events, discounts, and course conditions, as well as to book tee times. And, if you don't already get our golf emails, sign up today.