Featured PGA Professional: Scott Walecki
You'd never know it from the road, but there's an amazing Milwaukee County Parks Golf Course tucked away minutes off of Highway 45 on Milwaukee's north-west side. Dretzka Park Golf Course is located just east of Woodman's and Sam's Club. Take a tour of this beautiful course, and get to know award winning PGA Professional Scott Walecki a little better.
Golf Beginnings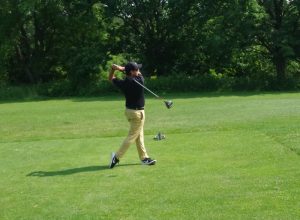 Scott learned his love for golf at an early age. When he was three, his parents bought him a set of plastic clubs and dressed him in white pants and a salmon shirt (maybe this is where his penchant for fashion-forward golf attire came from?). Scott's family were big golfers, and as a kid, family vacations consisted of trips to different golf courses, from Michigan to Vegas, Florida to Minnesota.
A Career At The Milwaukee County Parks Golf Courses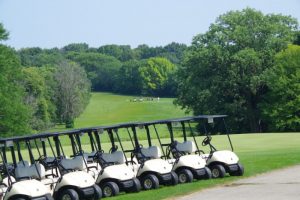 2019 marks Scott's tenth year with the Milwaukee County Parks' golf program. He started as an assistant at Oakwood Park Golf Course (under one of his golf mentors, Andy Barrett), then became the manager at Greenfield. After that, he moved to manage Currie Park Golf Course, and this year, he oversees both Currie and Dretzka. Scott admits that his favorite course is Dretzka. "Compared to the others, Dretzka is unique because you don't see the next hole. The layout is different – it's got a lot of unique features and character. I give a lot of credit to Course Superintendent, Mike Stein. He does a phenomenal job at making it professional."
Passion For Teaching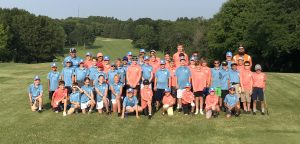 One of the many hats Scott wears as PGA Golf Professional at Currie and Dretzka courses is teaching. He takes on a ton of lessons and works with all ages and abilities, from juniors to beginner adults to more seasoned golfers. He offers a "Get Golf Ready" beginner program for adults, and works with military veterans in the PGA HOPE League, as well as teaching a beginner golf course at UW-Milwaukee. Scott has a fondness for teaching youth, too, as you'll see through the programs he's involved in: First Tee (where he's a certified Level 1 Coach), the PGA Junior League, Girls For Golf, and the Tosa Rec Department Junior League.
Favorites: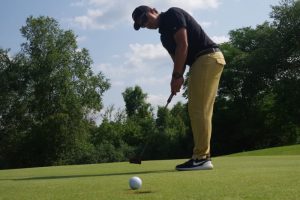 Course: Dretzka
Golf apparel: Nike and Taylormade
Person to golf with: His parents, and his wife, Jacqi (Scott proposed to Jacqi where they met, at Greenfield Park Golf Course!)
Food/Beverage options on the County Courses: all the craft beer and cheeseburgers!
Golf event: The PGA Pro/Assistant tournament, where Head Golf Pros play with their Assistants in a competitive round
Golf movie: Caddie Shack
What's Great About MKE Golf Today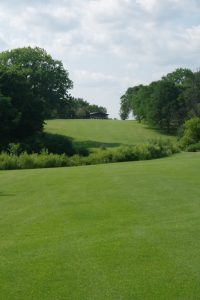 Scott loves how welcoming the Milwaukee County Parks golf courses are to everyone. He takes pride in the customer experience that is provided and believes that part of his role is to make sure golfers enjoy their round, and their overall experience on the course. Scott shares that golf is a little more casual these days – he sees more golfers heading out for nine holes after work, and grabbing a beer after. His goal is to know the golfers at Dretzka by name, so be sure to introduce yourself next time you play!
Golf MKE
The Milwaukee County Golf Courses welcome all ages and levels of golfers to all 15 courses! Pros like Scott are eager to help new golfers discover the beauty and playability of each course. Book a tee time today, and don't forget to sign up for our newsletter to stay on top of all of the events and opportunities MKE Golf has to offer!