LPGA Symetra Tour August 9-11 | Featuring Local Talent Allyssa Ferrell
We're excited to welcome the Potawatomi Hotel & Casino Classic Tournament back to Brown Deer Park Golf Course this August! This is a special tournament; the Symetra Tour is the official qualifying tour for the LPGA Tour – and we're one of 24 stops on the tournament list. Over the second weekend in August, you'll find some of the most talented female golfers on the planet at Brown Deer. Come check them out, cheer on the local talent, and enjoy free admission, no ropes, and a front row seat to some amazing golf. Here are a few highlights from the 2018 event:
Local Talent To Watch: Allyssa Ferrell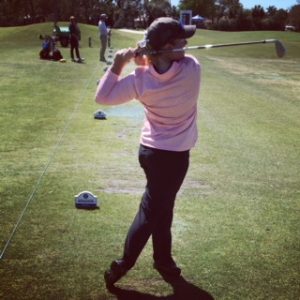 We had an opportunity to sit down with Allyssa Ferrell, one of the incredible female golfers on the tour this year. She's a midwesterner at heart, and while she shares "I love this course, but it doesn't always love me back" about Brown Deer, we still can't wait to cheer her on at the Classic!
Golf Roots
Allyssa is originally from Edgerton, Wisconsin (a mere hour and fifteen minutes southwest of Milwaukee), where she grew up on the golf course. Starting at age 8, Allyssa would go out with her dad after he got home from work; they'd play four or five holes before it got dark out. Allyssa's small high school didn't have a women's golf team when she was a freshman, so she played on a co-op team with another school. By the time she was a junior, Edgerton had its own women's team, and her senior year was extra special, because it was the one year that Allyssa got to play on the same team with her younger sister, Brooke.
Training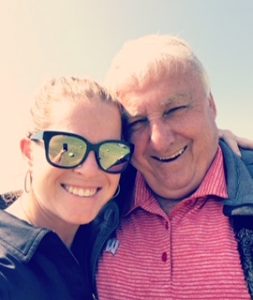 In the beginning, Allyssa's dad was her golf teacher, and remained he swing coach until she went pro. She shares, "he knows everything – sometimes he knows my game better than I do!" Now, she works with respected PGA Professional Dennis Tiziani as her coach. While she works hard on her technique and physical ability, Allyssa shares that it's mentally challenging to play golf at this level as well. While being on the road in a professional tournament is the dream for many, it's difficult to stay focused, keep working hard, and in the end, keep believing in yourself.
Passion For Kids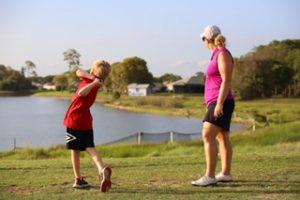 Allyssa graduated from Michigan State in 2104 with a degree in Elementary Education, which makes the opportunity to work with kids at the junior clinics on the Symetra Tour special. While it's not unusual for a lot of kids to show up at the clinics, Allyssa was especially impressed with the amount of girls who came out at a recent stop in Indiana. She says, "I love to encourage the game. It teaches so much about life in general, and you can play with anybody." In the off-season, Allyssa keeps up with her passion for kids by substitute teaching in the same school where her mom works.
Best Round Ever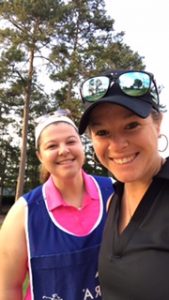 When we asked Allyssa about her best golf game ever, she shared that while we could judge a "best round" on score alone, there are so many other factors that are important to her. Sometimes it's not the score on the card, but the opportunities that arise from the game that she appreciates most. A few of her favorite golf memories include:
Winning the Brown Deer Women's Amateur at age 16 with her 13 year old sister on the bag
Winning three Big 10 Team Championships while playing for Michigan State
Placing 10th in the NCAA Championship her senior year in college
Getting the call at the last minute to play in her first tournament in 2015, where her dad was her caddie
Making a birdie on her last hole in the fourth round at Qualifying School in 2016 – this advanced her to the fifth round, where she received her LPGA Tour Card
Winning a tournament in Garden City, KS last season, with her sister on the bag
(Anyone see a theme here? Allyssa and Brooke also love spending time together with their goldendoodles when they're not winning golf tournaments!)
Show Allyssa The Love
If you'd like to support this hometown talent, we recommend coming out for the PHC Classic at Brown Deer! Allyssa also participates in the Fallen Heroes Golf Outing, which supports the WI State Trooper Benevolent Foundation (her uncle is a Trooper). If you'd like to attempt to "Beat The Pro," here's your opportunity! You can also keep up with her on the tour and off on Twitter.
Symetra Tour Junior Clinic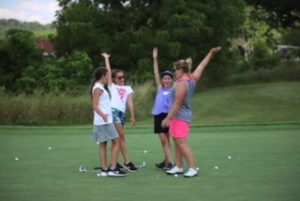 A tried and true tradition on the Symetra Tour is the kids' clinic. Junior golfers can learn from the best of the best.
Date: Tuesday, August 6, 2019
Time: 3:00-4:30pm | Prize drawing at 4:30pm
Location: Brown Deer Park Golf Club Upper Range, Chipping Green, and Putting Green
Price: $0 – this FREE event is open to all junior golfers age 8-13
This year, we're upping our game, and challenging our juniors to "Beat The Pro"! Junior participants will practice chipping, pitching, and putting, all while earning raffle tickets and the chance to win prizes. The Pros will get one shot, and juniors will get three shots to see how close they can get.
PHC Classic Tournament Details
When: Friday, August 9 – Sunday, August 11
Where: Brown Deer Park Golf Course
Time: 8:00am Tee Off
Cost: $0 – this FREE event is open to all!
Concessions: Oak & Antler Tavern
Spectators will find course and player info sheets near the scoreboard upon arrival. We hope you join us for one of the most impressive women's golf tournaments around!